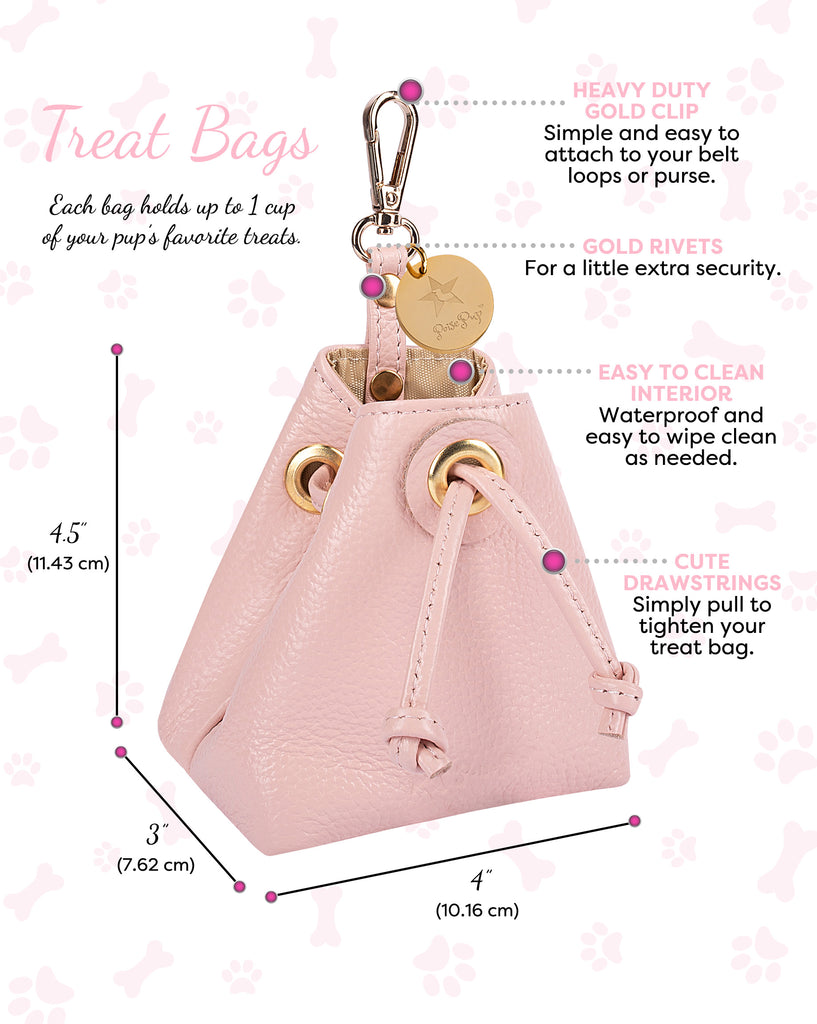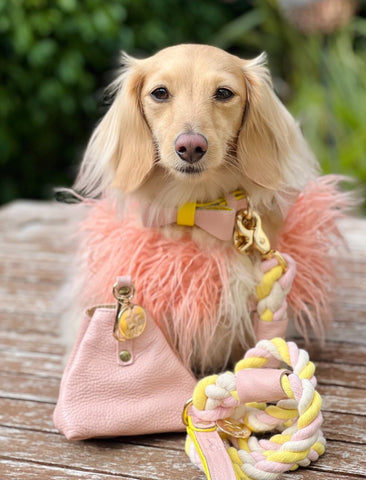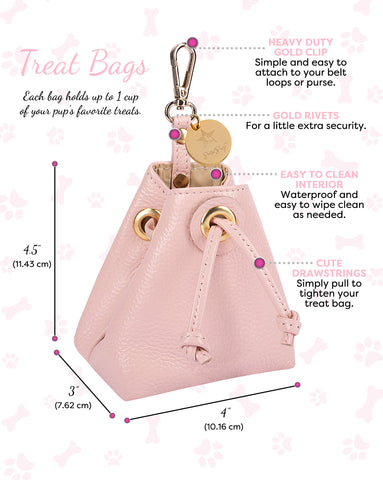 Add more fun to the walks with your dog!
BEAUTIFUL

 -

LIGHT PINK - Your dog will stand out from the pack with this one of a kind designer Treat Bag.
HANDMADE FROM SOFT & HIGH END FULL GRAIN LEATHER - PoisePup's Leather Treat Bags are hand cut and handmade by expert leather masters and provide a classy, unique home to your dog's favorite treats and a stylish way to train your dog while you are out for a walk.
ATTRACTIVE, SLIM DESIGN WITH CLIP - The Treat Bag easily clips onto your belt loops on your pants, carrier bag, dog's leash or wherever is most convenient. It's slim design means that it isn't bulky and it's comfortable to use on your walks with your best friend.
FINELY STITCHED AND DURABLE - PoisePup's Leather Treat Bag is made with Full Grain Leather, the best grain of the hide. The use of this particular grain and its fine stitching will ensure that the treat pouch will last you for a long time.
WATERPROOF, FUNCTIONAL AND LONG-LASTING - Extremely easy to clean and waterproof on the inside despite the harshest conditions. PoisePup swears by its materials, and knows that this fine, full grain leather Treat Bag will make an excellent gift for friends, family and loved ones who own a dog. 
MATCHING LEASH, COLLAR & WASTE BAG HOLDER AVAILABLE - To make this designer Treat Bag really pop, we recommend the matching PoisePup leash, collar & wast bag holder. Made from the highest materials and finish, they look gorgeous independently or as a set. 
Care Instructions
Leather: Use leather conditioner or cream every 6-12 months.
Waterproof material:  Wipe clean with a damp cloth using a lather of any mild soap with lukewarm water and dry with a clean, soft cloth.
Shipping & Returns
Check out our shipping options here.
Sizing
Double the size of our Waste Bag Holders!
4 in (10cm) x 4.5 in (11.5cm) x 3 in (7.6cm)
GET AN INSTANT 15% OFF FOR YOUR PURCHASE!

Just sign up to our Newsletter at our Home page.